Cornish hedges
The Cornish hedge has been around for around four thousand years and can therefore be said to be a tried and tested design.
In general, the stone face of the hedge is curved (like an arch on its side). This is called the batter and makes the hedge extremely resilient. Behind this face is tightly compacted soil, which prevents voids forming in the hedge so reducing water penetration, which can cause stability problems. The Cornish Hedge is a valuable and large habitat with an estimated thirty thousand miles in Cornwall alone. It acts as a seed bank allowing heavily cultivated / managed land the ability to regenerate rapidly. It is an effective form of stock control, out-lasting all fencing options. The Cornish hedge also makes a wonderful feature in any garden.
Any questions
If you have questions in relation to the numerous facets of Cornish hedging click on the links below to download PDFs of in depth articles on the following subjects all written by our good friend, the late Robin Menneer, (each document is copyrighted as appropriate). If any are downloaded and reproduced please acknowledged the copyright holder and the Cornish Hedges Library source: www.cornishhedges.co.uk/papers.htm
Code of good practice
Code of Good Practice –
This document is the best practice method for the construction of traditional Cornish hedges and is regulated by the Guild of Cornish Hedgers. It has been created based on hundreds of years of knowledge, the in-depth experience of practitioners, and provides a guide to promote the highest standards of professional practice and the standard of work expected in the proficient performance of the craft.
Download the complete document here (2021 Guild Code – MASTER (cornishhedgers.org.uk)
Kedroya
Since 2019 the Guild have been working with Golden Tree Productions on their project Kerdroya: the Cornish Landscape Labyrinth at Colliford Lake on Bodmin Moor due open in Autumn 2023.
Our craftsman have helped inspire a whole new generation of Cornish Hedgers through supporting 170 training days, engaging with 800 primary school pupils and helping to build and quality assure the construction of the 'Living Lexicon of Cornish Hedging'.
To find out more and see how you can be part of this project visit Kerdroya – Golden Tree Productions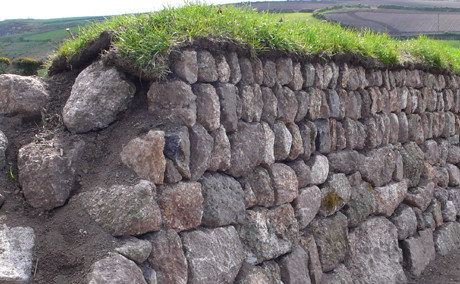 A Cornish hedge under construction.